Now that Tahra is old enough to understand when we are doing an activity together, I was trying to find something appropriate for Easter, besides buying bunnies and painting eggs, especially since we haven't introduced her to any candy yet and would like to keep it that way for the time being. Then we found out about the Big Egg Hunt, and figured we could use this for any activity, and she would be thrilled to find one of the eggs if we show her one or two ( and it could be fun for mommy and daddy too).
So, if you are looking for an excuse to bring your child to explore parts of the city you've never been to before, or even if you just want to add an element of fun to outings with the kids, this might be a fun project to watch out for.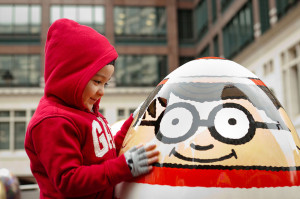 NYC will be hosting a "Big Egg Hunt" for  200 Fabergé egg sculptures  created by the world's leading artists and designers from April 1st to April 26th, 2014. The eggs are 2 feet tall and will be 'hidden' in public places across all five boroughs.
There will be an app (the link is still not available) that will allow those who find the eggs to "check in", and the event is raising money for children in New York City through Studio in a School, and conservation efforts through Elephant Family, saving the endangered Asian elephant and its habitat.
Their event site can be found at: http://thebigegghunt.org/
We will be adding this to our list of activities for April. What about you? Any fun Easter activities you would like to share?