The Letters to our Daughter posts consist of some excerpts of the diary we have written to her since  we found out I was pregnant.  
November 3rd, 2012 – 4 Months Old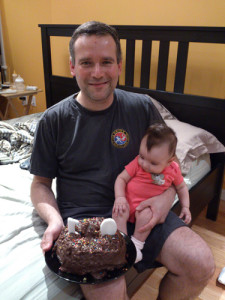 My Dear Baby girl
On the 28th of October we were getting ready to celebrate daddy's birthday and a hurricane was scheduled to hit NYC. It ended up hitting  New York City the following night. Hurricane Sandy left half of NY without light and a lot of people in shelters. We are lucky because we live in one of the highest areas in the city, so all we felt was fear, mostly for your safety, when the windows started shaking and you could hear the storm whistling outside.
We moved the beds away from the windows ( which is tricky in our room with windows on every side), put sheets and comforters in front of the windows, snuggled with you between us for safety and waited until the sounds outside turned into silence again.Tonight is the night before my birthday (we usually start celebrating midnight), and I love the flowers daddy got me. Tomorrow we will celebrate my birthday by going to the Armory, which is serving as a shelter close to our house to try to help those who have not been as lucky. Reminds me of how lucky I am to have my two amazing birthday gifts. You and daddy.
Never forget to count your blessings. We remind ourselves of ours every day.
We love you little bunny girl.